PHOTOS & NEWS FROM the Dunedin Open (2000), Gasparilla Tournament (2000),' and War of the Roses (1999)
---
NEWS FLASH FROM THE DUNEDIN OPEN (contibuted by fencing mom,
Debbie Barrett)
October 8, 2000:

Annie: Gerry and the TFA had a very successful day at the Dunedin Tourney this weekend. Attached are two pictures of the proud 11 and under medal winners and their coach. Three of the four 11 and under medalists were TFA members: Caleb took the Gold medal, and Molly and Jimmy took the bronze medals. GO TEAM TFA!!!! From left to right in the photo: Molly Barrett who has a national ranking of #7 in her age category, Gerry Duran (coach), Jimmy Decker, and Caleb Quintana. Click on the photo to see a larger version.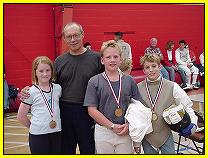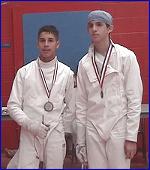 Iam Rene Martinez and Joshua Rosa were the silver and bronze medalists in the Y-15 category. Click on the image to see a larger view.



Congratulations to all of the young fencers who participated in the Dunedin Open!
---
If you would like to see photos (added 4-5-00) of some of the Black Knights and other Tampa's Fencing Academy Fencers who participated in the Gasparilla Tournament (January 2000),
Click Here!


---

War of the Roses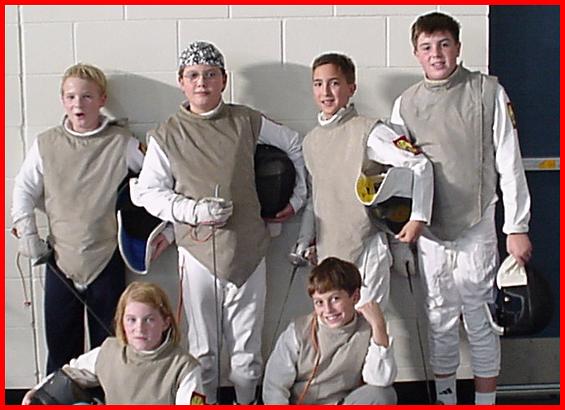 On November 14, 1999 The Black Knights participated in the War of the Roses tournament. The fencing team consisted of (back row) Charlie Barrett, Peter Lewis, Michael Carroll, Beau Craparo, (front row) Molly Barrett, and Spencer Pomerantz.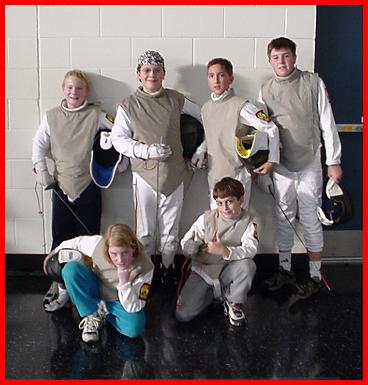 ---
Warrior Knights Main Page
Competition Photos & News
Warrior Knights Art Gallery
At the Salle
Cool Links for Warrior Knights
Tampa's Fencing Academy Main Page
TFA MAGAZINE
Fencing Links
E-Mail the Page Goddess