Sword Hands Across the Sea
---
The Navacchio Fencing Club is Tampa's Fencing Academy's sister salle in Italy. If you would like to visit their website, click here!

Mario Rosati of the Navacchio Fencing Club is also the vice-director of "Scherma News" which is published in Italy. He contacted us about exchanging news about fencing in our respective clubs and countries for the TFA MAGAZINE and for "Scherma News." So, look for some news of an international sort in future issues of TFA MAGAZINE. This time, we bring you information on the INTERNATIONAL FENCING CAMPUS.
---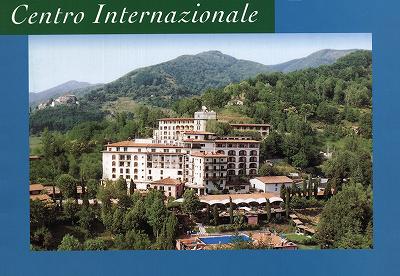 INTERNATIONAL FENCING CAMPUS
Description:
The International Fencing Campus (IFC) is a fencing course with a high technical bias for fencers over 14 years of age held by fencing coaches, athlete trainers and medical staff all with considerable international experience. The IFC will help you perfect your technique through training, lessons and practice match.
The first day is dedicated to assessing the technical ability of each course follower in order to form working groups made up of athletes at the same level. Upon request, it will also be possible to assess one's physical readiness so as to draw up a personalized program of physical training. Highly specialized coaches, according to the weapon, with international experience will follow each group. At the end of the course, each athlete will be given a dossier of the activities performed.
A course entitled "Evolution in the Technique of Fencing" will be held for all those coaches and instructors interested. (A minimum of 5 enrolments will be required for the course to be held.)
Location
Centro Internazionale "IL CIOCCO"
56020 Castelvecchio Pascoli (Lucca)
I T A L Y
Period
20th August - 3rd September 2000.
Course Followers
All fencers, whether Italian of from abroad, with a minimum age of 14 years may follow the course. Minors of less than 18 years of age will be required to be accompanied by staff or relatives, not necessarily individually. During their stay, these helpers will enjoy the special conditions applied to them by the organization.
Equipment
As the equipment used must comply to current F.I.E (Federation International d'Escrime) norms, the manufacturer and distributor of fencing equipment, Eurofencing Italia s.n.c., will be present at the I.F.C. with a retail and technical advice center.
Transfer
The organization will take care of the transfer of course followers by bus from Pisa Airport or Pisa Central Railway Station to the Centro Internazionale "Il Ciocco". Bus departures are planned for 3.00 p.m. and 7.00 p.m.
Contact the Meeting Point directly: tel. 0583 719 204 or 0583 719 208.
Accommodation:
Two- and three-bed accommodation will be available along with complete self-service refreshment facilities. Single room accommodation will require 30,000 lire per day supplement.
Program of Activities
08:00 – Breakfast
09:00 – 12:00 Training (phase 1)
13:00 – Lunch
16:00 – 19:00 Training (phase 2)
20:00 – Dinner
Entertainment.
Cost
Athletes 2,300,000 Italian Lire - (1,188 Euro)
Relatives and staff 1,900,000 Italian Lire - (982 Euro)
Services
Included

To be paid apart

Accommodation
Transfer from the Airport to the IFC;
gadgets
Physical training;
Individual fencing lessons;
Practice bouts;
Weapon technique;
Swimming pool;
Bocce (an Italian-style bowls);
Games room;
Billiards;
Evening entertainment;

Course in technique for coaches and instructors;
Sport psychophysical aptitude test;
Physiotherapist
Massage;
Sale of fencing equipment;
Excursions and visits with guide;
Sauna;
Riding;
Tennis;
Mountain bike excursions;
Hydro-massage;
Enrolment Details
The Centro Internazionale "IL CIOCCO" must receive enrolment applications no later than the 30th of April 2000. Applications received after that date will be accepted only at the discretion of the Organizing Committee.
The IFC has only a limited number of places and, in the case of the number of applications exceeding the places available; priority will be accorded on the base of the posting date.
Complete the accompanying form and send it to:
"IL CIOCCO" S.p.A.
Centro Internazionale
fax: +39 (0) 583 719 240
fax: +39 (0) 583 723 197
Method of Payment:
An initial deposit of 600,000 Italian Lire will be required at the moment of your application being confirmed. The balance must be paid up by the 31st of July 2000. Payments may be made by credit card, bank transfer or postal order payable to:
"IL CIOCCO" S.p.A.
BANCA DEL MONTE DI LUCCA
Agenzia di Castelnuovo Garfagnana (LU)
Conto corrente n° 11711256
Codice ABI: 6915
Codice CAB: 70130
---